About the MIHP Resource Center
Supporting a Unique Approach to Common Healthcare Problems
---
This website is intended for healthcare providers interested in learning more about MIHP and in obtaining resources to implement an MIHP program.
Mobile Integrated Healthcare Practice (MIHP) is a novel healthcare delivery platform intended to serve a range of patients in the out-of-hospital setting by providing patient-centered, team-based care using mobile resources.
MIHP emphasizes the importance of providing the right care, at the right time, in the right place and at the right cost. The collaboration between a variety of public safety and health care partners promises to provide 24/7 care—whether acute or chronic, at home, in a clinic or in another out-of-hospital location.
It's a unique approach to common problems, and an idea whose time has come.
The MIHP professional workforce includes but is not limited to:
EMTs and paramedics
Nurses, nurse practitioners and physician assistants
Physicians
Community and public health workers
Pharmacists
Home health providers
Hospice workers
Nutritionists
Data analysts
MIHP programs will vary considerably from community to community based on specific needs and available resources, but all successful MIHP programs require:
Medical direction
Strategic partnerships
Training and education resources
Communications (triage or scheduling personnel, dispatch, associated technology, etc.)
Mobile resources and transportation
Integrated health records
Sustainable funding
The capability to conduct evaluation and measurement
---
The Problem
The U.S. healthcare system is often described as one that fails to achieve optimal health outcomes while generating exorbitant costs for patients, payers and society.
The Institute of Medicine (IOM) estimates that $750 billion—30 percent of the U.S. annual healthcare budget—is wasted on unnecessary services, inefficient delivery, excessive administrative costs and prevention failures. Barriers to patient access; fragmentation of acute and chronic care; ineffective management of chronic illness; and complex, outdated reimbursement processes leave patients, clinicians and payers frustrated—and at historic levels.
A special problem is 24/7 care coordinated in the out-of-hospital setting. The discontinuities of health service are notably evident in the care of patients at home; this is particularly true for the chronically ill, frail elderly and mobility impaired. Multiple single-purpose providers offer niche care and often only during restricted hours of operation, neither of which match the actual needs of this patient population.
As a result, patients are routinely referred to hospital emergency departments (EDs) by their healthcare providers, despite the common knowledge that the ED is an imprecise match to their needs. Furthermore, care gaps, such as a lack of post-acute transitional care, make preventable readmissions a virtual inevitability that is both expensive and disappointing to patients, caregivers and the healthcare system.
Adapted from Mobile Integrated Healthcare Practice: A Healthcare Delivery Strategy to Improve Access, Outcomes, and Value. Click here to download the full article.
A Creative Solution
MIHP is a creative healthcare delivery model that links existing healthcare providers with mobile health infrastructure in a collaborative effort to improve the health of a specified population within a community. In the MIHP model, a partnership of community stakeholders determines local needs and gaps in healthcare services. While not a requirement for MIHP, the EMS infrastructure and 24/7 availability may be used to guide patient navigation and care, assisting patients in accessing the most appropriate resources in a timely manner. Additionally, EMS may be able to provide scheduled and unscheduled care through primary, secondary and tertiary interventions.
In summary, a Mobile Integrated Healthcare Practice will:
Focus on patient-centered navigation and offer transparent, population-specific care by integrating existing infrastructure and resources; and bringing care to patients through technology, communications and health information exchange
Define its operations through population-based needs assessments and tools
Leverage multiple strategic partnerships operating under physician medical oversight
Improve access to care and health equity through 24-hour care availability
Deliver evidence-based practice using multidisciplinary and interprofessional teams in which individual providers utilize their full scope of practice and support healthcare delivery innovation
Featured Document
---
Principles for Establishing a Mobile Integrated Healthcare Practice.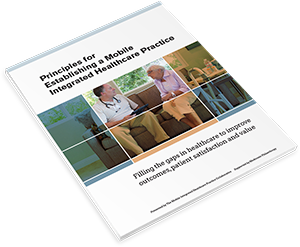 Complete form to download guide.

This new guide was written by leading researchers, educators, medical directors and practitioners. It pulls together and places in context the basic tenets that should be a part of every Mobile Integrated Healthcare Practice.
Inside you'll find the following chapters:
Population Health Needs Assessment
Program Taxonomy
Infrastructure and People
Competencies and Education
Clinical Leadership and Medical Oversight
Financial Considerations
Legal and Political Considerations
Health IT
Program Evaluation
MIHP Program Profiles
The profiles included here provide a sampling of various MIHP programs across the country; information was compiled through data submitted by each organization. To submit your organization's MIHP program profile, complete the electronic profile form below. Once submitted, please allow several days for it to be reviewed and published.

Newly Published
Mobile Integrated Healthcare:
Approach to Implementation
---
Noted pioneers in this new area of practice, co-authors Doug Hooten and Matt Zavadsky provide a step-by-step approach for the practical implementation of an MIH program. Their experience with community stakeholders, payors and other healthcare specialists provides unique insight.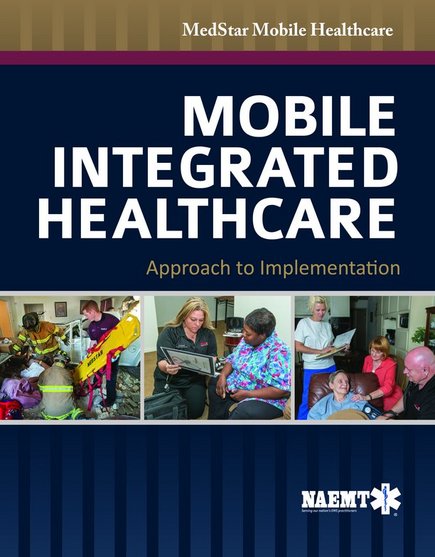 Resources
White Papers
Posters
MIHP Poster Presentation (Includes Logic Model)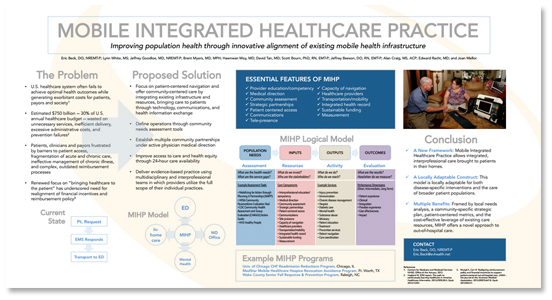 Courtesy of Eric H. Beck, DO, MPH, NREMT-P
Evolution Health
Videos & Media Resources
NAEMT Video – Transforming EMS: Mobile Integrated Healthcare and Community Paramedicine
EMS World (Integrated HealthCare Delivery publication)

JEMS (various articles related to MIHP)
EMS1.com(various articles related to MIHP)
Articles
Paramedics Aren't Just for Emergencies
Published in The Wall Street Journal, August 2015
Giving EMS Flexibility In Transporting Low-Acuity Patients Could Generate Substantial Medicare Savings
Published in Health Affairs, December 2013
Building a Better Community Paramedic
Published in EMS World, August 2014
How 4 cities are making community paramedicine work for them
Published on EMS1.com, July 2014
The Role of EMS in Community Paramedicine
Published in JEMS, April 2013
Other Resource Sites
NAEMT
The National Association of Emergency Medical Technicians
naemt.org
NASEMSO
The National Association of State EMS Officials
nasemso.org
© Copyright 2014 MIHP Resource Center